School is out, Summer is around the corner, and travel is resuming. For myself and many around me, I can feel the deep need for an escape, adventure, vacation or curiosity-chase. We know how both cosmetics and travel are vehicles for self-discovery. Mingled together, there's really something unique.
We already know how the refurbished souvenir-style compacts at F.A.C.E. invite purchasers to use as a map to explore through psychogeography. This refers to the act of exploring a territory in a nontraditional way. We can choose to explore in ways that incorporate randomness and spontaneity, and in doing so we may transform our familiar cartography into something unexpected.
But, what about an actual Beauty Adventure Road Trip? Upon researching, there are several beauty landmarks scattered over the United States. These businesses honor the history of cosmetics and participate in travel and tourisms in their own regions. From the world's only beauty saloon offering manicures + martini's, to a Joshua Tree "hairstorian", and a makeup compact art gallery right here in Paducah (that's us!), there are so many unique beauty + travel fusion experiences in America.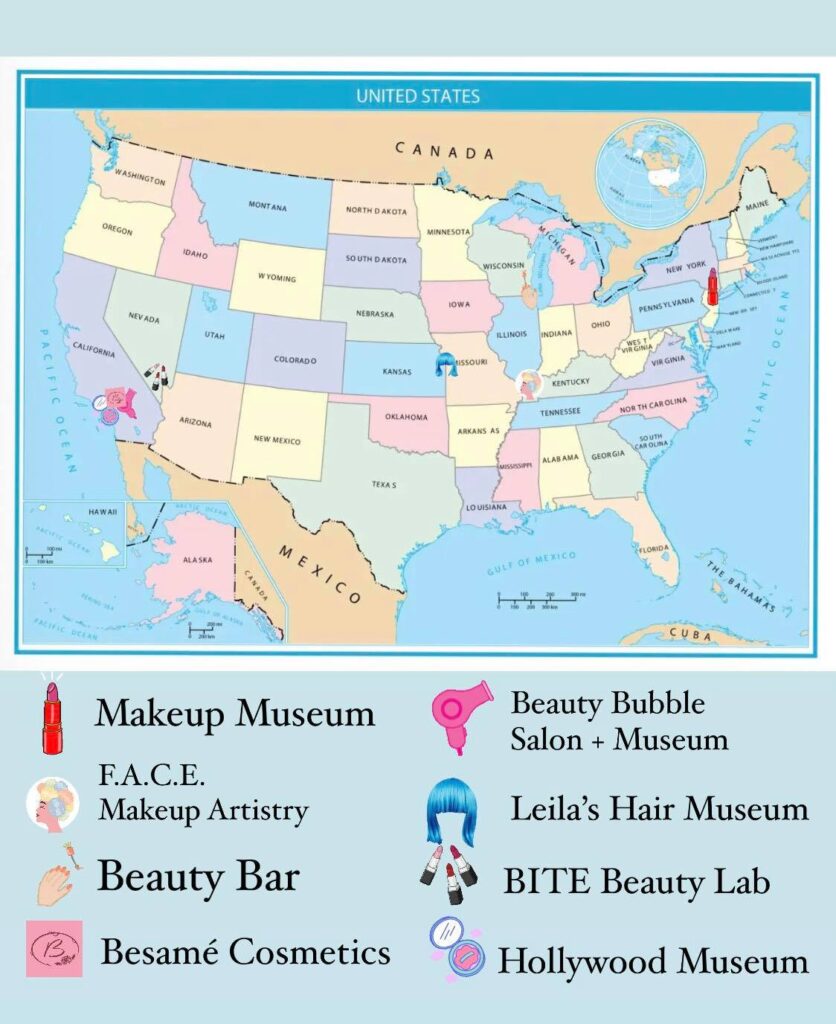 Makeup Museum: New York City, NY
F.A.C.E. Makeup Artistry: Paducah, KY
Beauty Bar: Chicago, IL
Besamé Cosmetics: Burbank, CA
Beauty Bubble Salon + Museum: Joshua Tree, CA
Leila's Hair Museum: Independence, MO
BITE Beauty Lab: Las Vegas, NV
Hollywood Museum: Los Angeles, LA