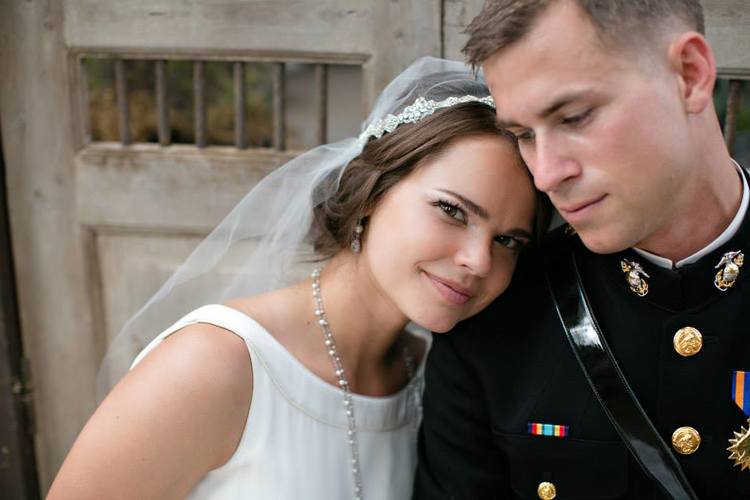 Looking and feeling your best for your wedding is very important. In fact, your face will be one of the most documented features of the day. That is why professional makeup services are imperative for your special day.
To ensure flawless confidence on your wedding day, the services of a certified makeup artist are essential. Erin specializes in creating the look you want by enhancing the features that make you uniquely beautiful.
Erin's vast experience is put to work for you when she plans your look:
Makeup/Tools: Top of the line tools and makeup brands will be selected that will work best for your individual skin type and tone focusing on the need for a long lasting application.
Application/Technique: Expert techniques learned from international education will be used in bridal makeup application. Erin understands the importance of applying bridal makeup that looks great in person and in photographs/videography.
Erin's mission is to lighten your load. Your makeup experience should be worry free on this special day. She will eliminate stress and allow you to be pampered when you need it most by providing a setting made for the moment. The lighting, room temperature, wall color and privacy of the F.A.C.E. studio space will all work together to provide a relaxing experience and maximize the look, application safety, quality and timeliness. Your makeup will be just what you selected weeks ago during our fun-filled bridal trial, when things were not so hectic. She can also provide makeup services and products for other bridal party members.
Each bride receives a complimentary refurbished vintage compact, stocked with custom shades to keep the look fresh throughout her wedding day as well as offering the ability to recreate her bridal look on her anniversary.
Interested in booking wedding makeup?
Considering doing your own wedding makeup?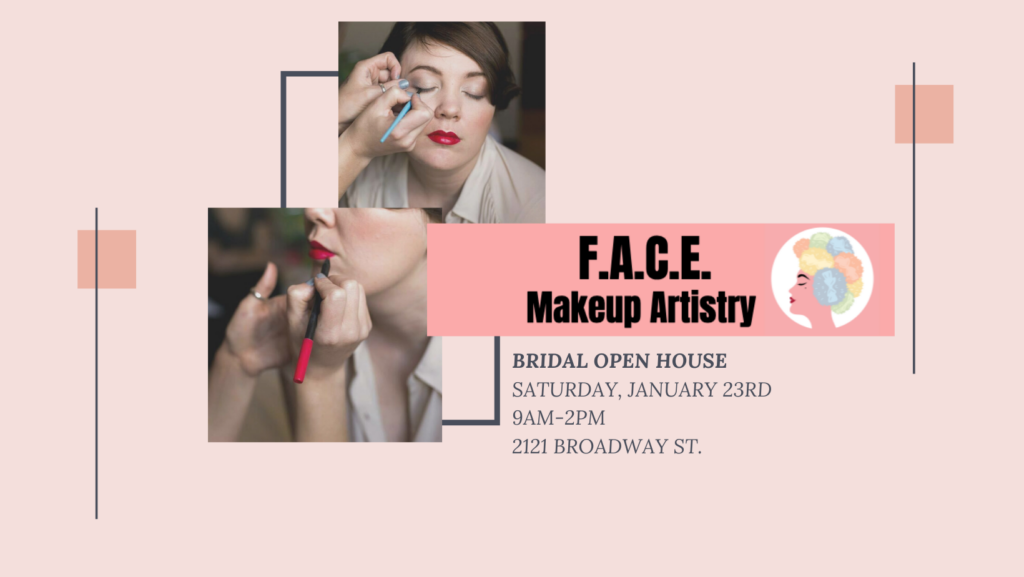 If you are engaged and considering professional makeup services on your wedding day, stop by F.A.C.E. Makeup Artistry for bridal tips, giveaways, and additional information during our Bridal Makeup Open House!
This is a complimentary event to attend, but please officially RSVP on the official ticket link by Friday, January 22nd (midnight CST). Each Bride-To-Be receives a bridal makeup gift for stopping by, so we appreciate an accurate headcount in advance.
FAQ's:
Q. Do I have to RSVP to be able to stop by?
A. Yes! If you want a complimentary bridal makeup gift and info packet, an official RSVP on the ticket link is required. Only bride-to-be's that register through the link will be accounted for. Registration will close at midnight on Friday, January 24th (midnight CST).
Q. I am interested in your makeup services, but cannot attend this event. How do I connect to discuss a potential booking?
A. Email Erin@FaceMakeupArtistryLLC.Com
Q: If I RSVP but end up not being able to attend, can I still claim my bridal makeup compact at a later date?
A. No. The compacts are only redeemable the timeframe and day of the event. Please notify us if you can no longer attend.
Q. I am a Bride-to-be who lives out of town. Can someone else stop by in my place?
A. Yes! Please RSVP as the bride and then follow up with an email stating who will be representing you. One member only, please.
COVID SAFETY IMPLEMENTATION:
*Masks are required to enter.
*Social distance (6 feet apart).
*Only 2 people allowed in the studio at a time.