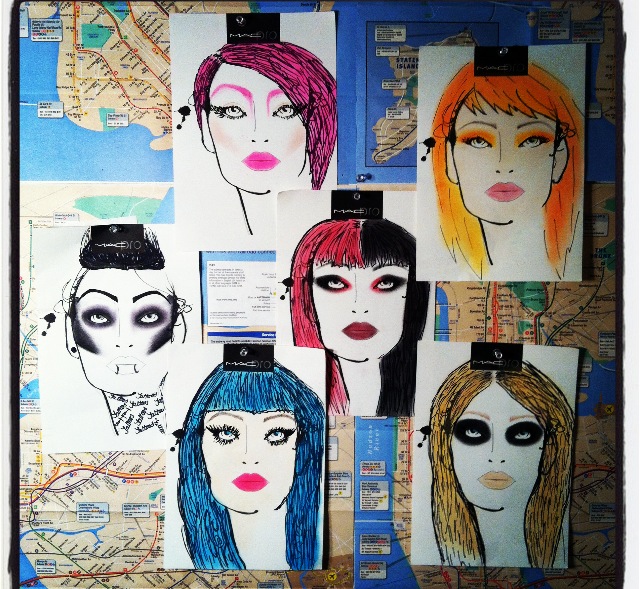 I'm going pretty outside of the box as far as vendor submissions go for the Vans Warped Tour this year. I've never seen a makeup booth set up, but I think it could really work. The biggest factor in trying to persuade individuals that this is a practical service is the heat factor…
The last thing people want in 100 degree weather is heavy makeup melting down their skin. Right! I know, I get it & agree. The feeling really only occurs with foundation though. By waterproofing and applying great primers for applications, all of this can be prevented.
I want to provide iconic makeup applications from lead singers of Warped Tours past. All 6 options deal with iconic eye makeup and some contouring (no foundation applied). The looks can be completed within 10-20 min, so tour-goers won't miss their favorite bands.
I feel that makeup goes quite hand-in-hand with music. They both bring something from the inside to the exterior when applied/played. Makeup applications can actually enhance the musical & artistic experience/expression that Warped Tour is all about!
While brainstorming with face charts of the artists for these looks, I came up with the following icons: Hayley Williams, Taylor Momsen, Katy Perry, Chris Motionless, Jeffree Star, Ash Costello. They all have great signature eye makeup that's easy to recognize and I feel like fans could bond over that (even though the looks are based off of past warped tour icons).
Now, to figure out the logistics, cost, pricing, pitch etc. I will find out in March. Fingers Crossed!
P.S. This link tells you everything you need to know about makeup face charts. Rather mind blowing!